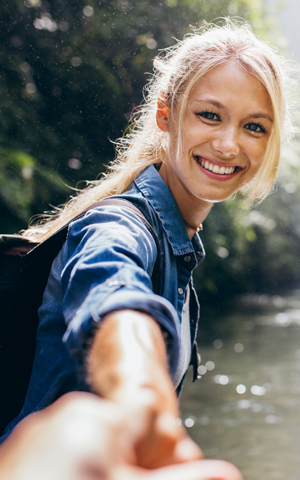 At Airlie Smile Care, we design gorgeous dental veneers that can drastically change the appearance of your smile! We use first class materials to ensure that your beautiful results can last for up to 20 years!
Veneers are ultra-thin ceramic sheets that are bonded to the front of your teeth. Veneers can:
Change the color of your smile for a dazzling white grin.
Adjust the shape of the teeth for a more even look.
Change the size of the teeth to perfect the smile.
Close gaps between the teeth, and even reduce crookedness.
Provide a layer of strength to worn down, chipped, or broken teeth.
Are Porcelain Veneers Right for Me?
Do you have gaps between your teeth?
Are your teeth chipped or crooked?
Would you like to improve the shape or size of your teeth?
Do you feel self-conscious when you smile?
You deserve a supremely confident look! One of the best ways to enhance your smile without surgery is with lifelike porcelain veneers.
If you're interested in making over your smile with noninvasive veneers, Dr. Farrell can tell you if veneers are right for you. He has provided this successful treatment to dozens of patients, and would be happy to give you stunning results that can last for years.
Key Benefits of Dental Veneers
Porcelain veneers offer benefits like:
Restoring symmetry to the smile.
Strengthening damaged or cracked teeth.
Increasing or decreasing the size of a tooth.
Can serve as instant orthodontics for some patients.
An effective whitening solution.
Protect teeth from decay and staining.
Improve the aesthetic and function of your smile.
Dental Veneers at Airlie Smile Care
If you decide dental veneers might be right for you, our team would like to discuss exactly how you'd like your smile to look! Let's make your dreams come true at Airlie Smile Care.
In just a few visits, you can design a brand new smile. Rest assured that we will work with you until you are pleased with your results!